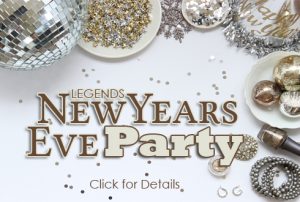 *****************************
THIS EVENT IS SOLD OUT
*****************************
Ring in 2018 with your favorite radio station! Join us for the party of the year, New Years Eve at the Daisy Flour Mill. The Popshow Band will keep you entertained and the dance floor full with their energetic Vegas-meets-party band show, playing your favorite music, complete with impersonations and costume changes. Cocktail hour starts at 6:30, with hors d'oeuvres and cash bar, buffet dinner is at 7:30, followed by dessert and champagne toast at midnight.
We want you to be safe, so we've partnered with the Brighton Courtyard Marriott, to offer a special room rate of $99, plus a free shuttle to and from the party and a continental breakfast the next day. Just call 292-1000 and ask for the Legends special.
On the Menu:
Appetizers – stuffed baked brie, pesto cheesecake, fresh veggies with hummus and dips, sweet and sour meatballs, spinach artichoke dip
Buffet Dinner: Mixed greens salad with roasted butternut squash, candied walnuts, balsamic goat cheese & raspberry vinaigrette, fresh fruit, rolls & butter, vegetable mint couscous salad, broccoli and cheddar salad, mashed sweet potatoes, Mediterranean penne pasta, chicken Tuscany with cheese and mushroom stuffing, chef carved prime rib
Dessert: Assorted sweets and cookies, coffee & tea and midnight snacks from Ridge Donut Cafe.
Thank you to our sponsors: