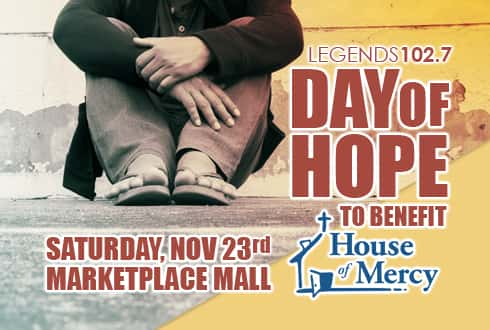 Join LEGENDS 102.7 at our annual Day of Hope, benefitting the House of Mercy, Saturday, November 23 at Marketplace Mall. Marti, Maggie and Mark will be broadcasting live from the mall from 10 til 4, accepting monetary and in-kind donations.
In a city with one of the highest rates of extreme poverty in the country, Rochester's House of Mercy stands as a beacon of hope for the poorest of the poor. House of Mercy is a grassroots homeless shelter and advocacy center that operates 24/7 and never closes its doors on those in need. Every month, their shelter on Ormond Street serves more than 4,000 men, women and children, providing food, shelter, clothing, serious substance abuse treatment, spiritual services, advocacy assistance, drop-in emergency services and so much more. Every day, all day, in ways big and small, House of Mercy serves Rochester's people in need.
We will be accepting donations for House of Mercy including:
FOOD: House of Mercy serves 2 hot meals a day (more than 400 meals every single day), provides snacks all day long for people who missed a meal and also has a food pantry that provides food to several hundred families each month.
Canned Vegetables
Fresh turkeys and ham (House of Mercy needs 40 turkeys to serve Thanksgiving dinner)
Mac & Cheese
Canned soup
Spaghetti-O's & canned ravioli
Shelf-stable milk and juice
Canned fruit (no apple sauce – they get a lot already)
Pasta and sauce
Coffee, sugar packets, nondairy creamer (the coffee pot is on 15 hours a day!)
Tea, hot chocolate
CLOTHES & PERSONAL CARE ITEMS: House of Mercy provides clean clothing for residents as they come in the shelter and have a clothing room available to anyone who may need something.
New Socks (everyday socks and wool socks for winter)
New Men's, Women's, and Children's Underwear
Winter boots & winter coats (can be gently used)
Gloves and hats for men and women
Blankets, towels, sheets, washcloths (can be gently used)
Deodorant – men's and women's
Toothbrushes & Toothpaste
Shampoo & Conditioner
Cash Donations – House of Mercy is 100% donation driven, receiving no federal, state or county funding. So whether your contribution is large or small, it will give help — and hope — to people in our community who suffer from desperate poverty. Make a $50 cash donation, you will be in the drawing for a $100 Record Archive gift card. Anyone who makes a $100 or more cash donation will be in the drawing for a prize pack that includes a $200 gift card to Kaino's Restaurant and gift cards for Amazon and Wegmans.
100% of donations stay right here, helping those most in need in our city. Collection bins will be located outside the food court entrance, and inside next to the broadcast set up. Click here to learn more about House of Mercy.
Thanks to our sponsors: