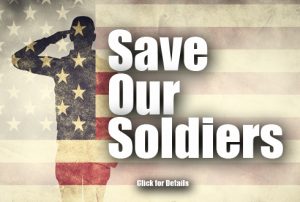 Gary Sinise Foundation
The Gary Sinise Foundation was established in 2011 to serve and honor our nation's active military, veterans, first responders, their families and those in need. The Gary Sinise Foundation creates and supports programs that entertain, educate, inspire, strengthen and build communities. Find more information and learn how to get involved here.
---
Blue Star Mothers of America
Blue Star Mothers of America is a sisterhood of six thousand members nationwide – all mothers, grandmothers, stepmothers, foster mothers and female guardians who have children in the military, guard or reserves, or children who are veterans. Blue Star Mothers provides support for active duty service personnel, promotes patriotism, assists veterans organizations and participates in volunteer efforts to keep our country strong. Find membership information and upcoming events for our local Rochester chapter here.
---
Operation Gratitude 
Since 2003, Operation Gratitude has sent more than 2 million care packages and letters of support to service members, their families at home, Veterans and first responders. With every care package, Operation Gratitude seeks to lift the spirits and meet the evolving needs of our military and first responder communities, while letting them know their service is appreciated. Find out how to get involved here.
---
Vets 4 Warriors
Vets 4 Warriors provides immediate, free and long term peer support through confidential phone, chat, text and email conversations. They serve veterans of all generations and the entire military community. You'll speak to a veteran who understands your life experiences and the challenges you face first hand, and will connect you to the resources you need to improve your life. Discover the power of connection here, or call 1-855-838-8255.
---
Code of Support Foundation
The Code of Support Foundation provides critical, essential, one on one assistance to struggling service members, veterans and their families. Code of Support connects them to tools and resources within the veteran community to fit their specific needs, no matter how complex, building a customized service plan that leads to self sufficiency. Find more information and get the help you need here.
---
Honor Flight Rochester
Honor Flight Rochester is dedicated to providing our war heroes with honor and closure, with an all-expense paid trip to visit and reflect together at their memorials in Washington DC. Since 2008, they've escorted more than two thousand veterans to our nation's capital. Honor Flights are free for all veterans, with top priority given to veterans from the oldest wars first, and those who may be catastrophically ill. Find more information and fill out an application here.
---
Homes For Our Troops
Homes For Our Troops builds and donates specially adapted homes for severely injured Post-9/11 veterans.  These homes restore some of the freedom and independence our Veterans sacrificed while defending our country, and enable them to focus on their family, recovery, and rebuilding their lives. They've built 250 homes since 2004, and have been named one of America's Top-Rated Veterans and Military Charities by Charity Navigator & Charity Watch. Learn more here.
---
Veterans Outreach Center
Since 1973, the Veterans Outreach Center has been providing no cost services, support and programs for veterans, current military members and their families. These include: peer to peer mentoring, accredited veterans benefits counseling, financial counseling, housing assistance and more. Find more information here, stop by their office at 447 South Avenue in Rochester (no appointment necessary), or call 1-866-546-1081.
---
Hidden Heroes
Hidden Heroes sheds light on the untold stories of the millions of military caregivers in our country. Click here to be connected with a vetted directory for the resources you need. They also offer educational courses, and an online community of caregivers for support.
---
Hire Heroes USA
Hire Heroes USA transforms military service into civilian success, by providing free, one-on-one career coaching and job sourcing to transitioning US military members, veterans and military spouses. To date, they've confirmed more than 18,500 veterans and military spouses hired. Sign up for their services here, and click here to see their job board.
---
Vet Tix
Vet Tix provides free and discounted tickets to events that reduce stress, strengthen family bonds, build lifelong memories and encourages veterans and service members to stay engaged in their community and American life. They've given over three million tickets to date, to everything from sporting events and concerts to performing arts, educational and family activities.  See what tickets are available for you by becoming a member today at vettix.org.
---
Angel Airlines for Veterans
The mission at Angel Airlines for Veterans is to ensure that no veteran in need is denied medical care due to a lack of long distance transportation. They take away the financial burden of travel, providing gas cards, bus, train and airline tickets, free of charge. To request help from Angel Airlines for Veterans, apply online at angelairlinesforveterans.org, or call 888-849-0507.
---
Lifeline for Vets
Lifeline for Vets is the nation's only toll free, vet-to-vet helpline for veterans and their families. They are a one stop resource for veterans looking for assistance. Lifeline for Vets councilors have at their finger tips, one of the most comprehensive databases in existence of local, national, community-based and government resources, and can provide assistance with needs including financial problems, mental health issues, receiving VA benefits and healthcare, suicide intervention and so much more.  Call Lifeline For Vets at 888-777-4443.
---
American Red Cross 
The American Red Cross Services to the Armed Forces programs provide assistance to 1.4 million active duty service members as well as 24 million veterans and their families. Services include emergency communications; responding to emergency needs for food, clothing and shelter; support for families before, during and after deployment, and more. A comprehensive Monroe County Military Family Resource Guide is available at no cost at The Greater Rochester Chapter of the American Red Crossoffice, located at 50 Prince Street in Rochester.
---
Life Script Mental Health Services
Whether you suffer from PTSD, anxiety or depression, your non-physical wounds can heal, with the help of Tom Porpiglia at Life Script Mental Health Counseling Services. He uses a drug free, evidence based, self help method called Emotional Freedom Technique, or tapping, to give you rapid relief from your experiences. Research has shown that this powerful technique provides long lasting relief and is 100 percent effective for all types of trauma and PTSD. Tom offers veterans 6 free sessions – call 585-704-0376 and visit lifescriptcounseling.com for more information.
---
Freedom Service Dogs 
Freedom Service Dogs of America provides service dogs, free of charge, to veterans returning home with physical disabilities, PTSD and/or traumatic brain injury. Every service dog is rescued from a shelter and custom trained to help veterans and active duty service members live again with dignity and self reliance. For more information, visit freedomservicedogs.org. Freedom Service Dogs of America – Rescuing Dogs. Saving Lives.
---
Hero Peers
HeroPeers provides confidential, one on one, peer to peer support for veterans and first responders. Heroes are matched with a HeroPeers member – someone who has walked in their shoes, knows exactly what they're going through, and who can give them the support they so desperately need. For more information, visit heropeers.org, or call 585-210-8491.