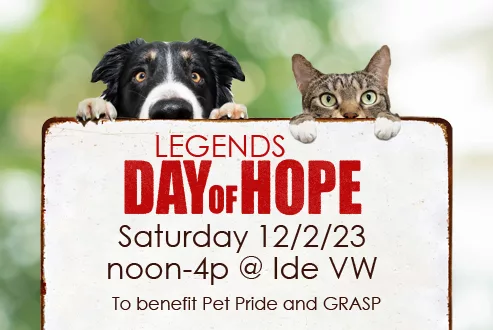 Help Homeless Pets in Our Community
Every animal deserves a safe and loving home. So this year for LEGENDS annual Day of Hope brought to you by the Ide Family of Dealerships, we're supporting 2 amazing local rescue organizations, GRASP and Pet Pride. Both are nonprofits that work tirelessly to provide shelter, medical care, rehabilitation, and forever homes to animals in need.
Pet Pride was founded by dedicated cat rescuer Jacqueline Russel and beloved local veterinarian Stuart Gluckman. They have been a 501(c)(3) nonprofit organization since 1977 and have had their own cat sanctuary and adoption center in Victor since 2000. Learn more about Pet Pride here.
GRASP (Greece Residents Assisting Stray Pets) has been helping people find their new best friend since 1996. GRASP is committed to reducing the number of homeless pets in Greece by decreasing dog and cat reproduction, promoting responsible pet ownership, and placing homeless dogs and cats into compatible, loving, permanent homes. Learn more about GRASP here.
Please join us in supporting these wonderful organizations. We will be accepting donations for Pet Pride and GRASP on Saturday, December 2 from noon until 4 at Ide Volkswagen in East Rochester. See their wishlists below. Monetary donations will also be accepted.