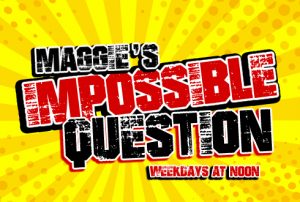 We don't want to say that we're responsible for you making it through your workday…but let's face it, LEGENDS 102.7 does make work a lot more fun. Maggie Strickland is right by your side from 10am to 3pm playing the biggest hits of all time and testing your smarts with her Impossible Question. Every weekday at noon Maggie poses an "almost" Impossible Question and gives you the opportunity to win some fun prizes.
If you missed the question or the answer to one of Maggie's recent Impossible Questions, you will find the answer below.
Q:  76% of people say they feel guilty doing this.  Doing what? A:  Throwing food away!