Mark Shuttleworth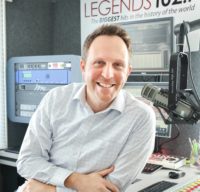 Mark was born near Liverpool, England. At the age of 8 he and his parents moved to the United States and settled in Rochester where he fell in love with radio! After climbing through the ranks at Klem Road North Elementary, Schroeder Middle School and finally Webster Thomas he studied communication at Houghton College. Most of his time was spent on-air at the college station, WJSL. Between shifts he interned at two radio stations in Rochester and one in Detroit. During his senior year he worked as a news reporter for a small network of stations in the southern tier. Mark worked for 102.7FM since 1998, working in production, programming, and on-air. Mark, his wife Christine, son Caleb, daughter Chloe, and dogs, Bug (a Maltese) and Maisie (a Beagle,) live in Webster.
If you missed some of the things Mark talked about on the air recently you can click here to access Mark's Bits & Pieces.
Two people hospitalized after a skier hits a water hydrant on a ski slope!  This looks awful.