Maggie Strickland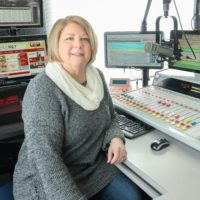 Maggie grew up in Orleans County, NY, graduating from Albion High School in 1974. She attended SUNY Fredonia, majoring in Theatre Arts with a concentration in Broadcasting and Speech Communications. After graduating in 1979 (she "crammed" 4 years into 5!), Maggie headed for warmth and sunshine and moved to Bradenton, Florida. It was there that Maggie got her first job in radio as an evening DJ on a top 40 radio station. From there, Maggie worked as a news reporter/anchor at an all news station in Sarasota, Florida, as a News Director for an FM station in Miami, a Morning Announcer and Music Director as a missionary for Trans World Radio on the Pacific Island of Guam and as a news anchor for an all news station also in Guam. Maggie moved back to the Rochester area in 1997 and was hired as a writer/producer for Crawford Broadcasting. In 1999, LEGENDS 990 AM went on air with Maggie at the helm as the afternoon host. When LEGENDS moved to 102.7 FM in 2008, Maggie made the transition as well. Maggie met her husband, Eric, in church in the spring of 1999 and they were married in September of 2000. Maggie is thrilled to be working at Legends 102.7 FM, and enjoys bringing back memories to all who listen.
Every weekday at noon Maggie asks her Impossible Question. Click here and check out some of her previous questions and answers.
Q: According to a recent poll,  64% of us do this right after a vacation. What do we do? A: Call in sick to work!