Chuck McCoy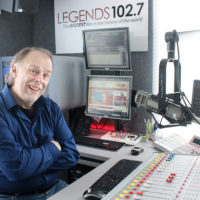 Chuck has finally settled down – as your evening host at LEGENDS 102.7. Prior to joining us, he worked at several Rochester and Buffalo stations, including WKLX, WBEE, WKBW, WBEN and WGR.
Chuck grew up in Buffalo and from an early age was avidly listening to many of the now legendary night time DJ's, especially such WKBW nocturnal greats as Joey Reynolds, Tommy Shannon, Sandy Beach and Jackson Armstrong. Little did Chuck know back then that here in the 21st century he'd be one of the last remaining wild & crazy night time DJ's in American radio.
To Chuck, radio is still "theater of the mind." Listen for Chuck's original comedy bits every night. If you hear shades of Johnny Carson, Steve Allen, Bob Newhart, Sid Caesar, SNL, SCTV and so much other classic comedy, it's no coincidence. Chuck has been a major lover of comedy since birth.
Chuck and his wife Cheryl reside in the city in a 1865-era former farm house(with their 4 thoroughly spoiled cats). They enjoy the great outdoors, trips to Durand Eastman and are proud to call themselves Seabreeze season ticket holders. "My greatest accomplishment in life has been being able to go down all the hills on the Jack Rabbit with my hands in the air."
Listen to Chuck and his "cast of characters" every weeknight, 7p till midnight and Saturdays, 4p-7p — and make a request at (585) 222-4000.
Chuck's Radio Comedy Bits: Sham of Iranistan tells Chuck about his new tourism idea News You Can't Use: Biff Rochester's new tell all book about his famous ancestor Joey calls Chuck a dirty mutt(?)